Series 140 - Beaver 1.40 (22.9 cm³)
Manufactured in 1968 (Cox #140-1, ECJ #130a)
You might not believe it, but the Cox did also manufacture a few engines having slightly more displacement than the Tee Dee .010.
Here we have an engine taken from a Cox Beaver chainsaw. This particular engine has been modified by its previous owner to be used in a large model aircraft. While the chainsaw parts like handle and blade have been removed, the basic engine is still in its original condition. All screws except the muffler fastening screws should be slotted screws, though.
The piston is equipped with two rings and runs in a steel liner. The main crankshaft connects to a rear extension, which drives the flywheel and at one time also carried the pull starter. Both shafts are running in needle roller bearings and the engine seems to be a strong, but lightweight design. The spark is provided by the usual high tension coil and magnetos in the flywheel. Induction is controlled by a V-type reed valve, similar in layout to what you find in 2-stroke motorcycle engines.
The exhaust deflector is equipped with an insert, but really cannot be called a muffler.
About 30'000 of these engines, which were also available as a general "utility" engine, were manufactured. This was a relatively small number compared to Cox model engines. One variant of this engine was produced by Cox as a bicycle power unit, called "Bronco". The utility engine was used for example in a portable winch produced by the Warn company of Seattle.
Later Cox sold the manufacturing rights to the Roper company so that these engines exist with "Cox" as well as "Roper" name plates. Finally the last engines of this type were sold by Hobby Lobby under tha name "Rhino 1.4".
The cutaway drawing was lifted from the datasheet, which shows a performance curve peaking over one horse power at 7000 1/min.
I am still looking for better samples of these engines.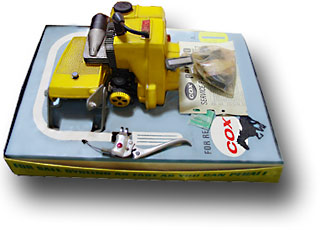 Photograph of the Bronco engine in its sales box.